Thank you for contacting us!&nbsp
You will receive a response shortly.
Make a booking
Book
Phone
en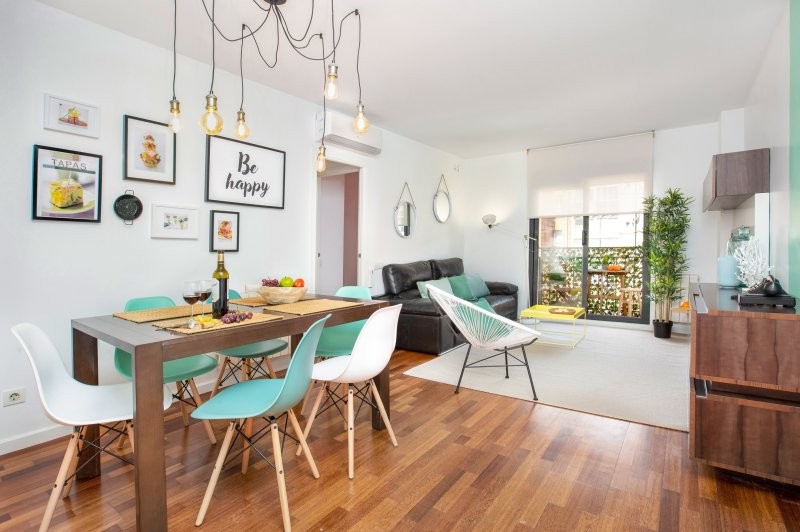 Image gallery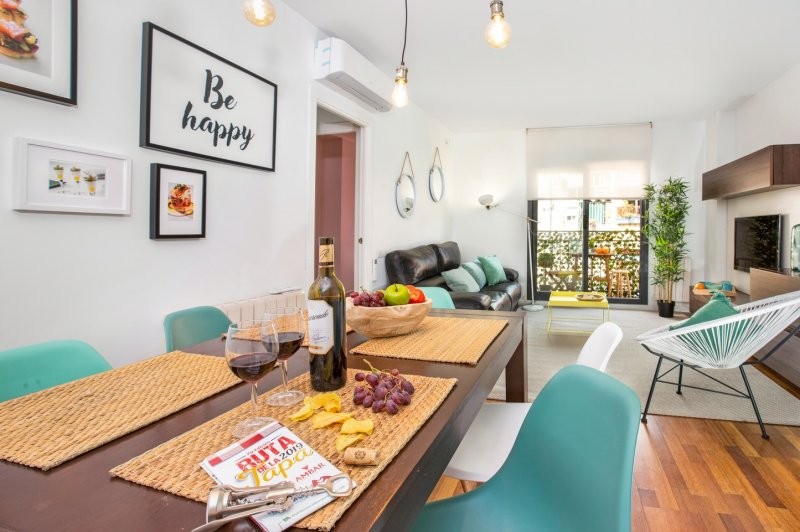 Image gallery
Image gallery
Image gallery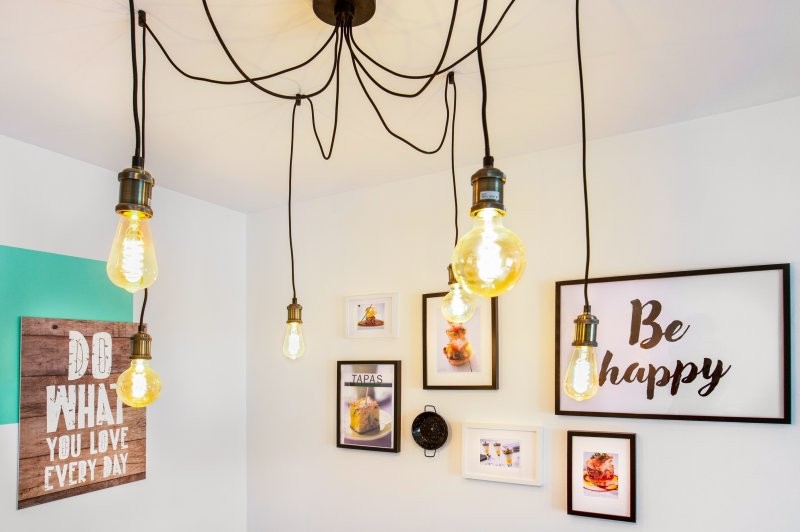 Image gallery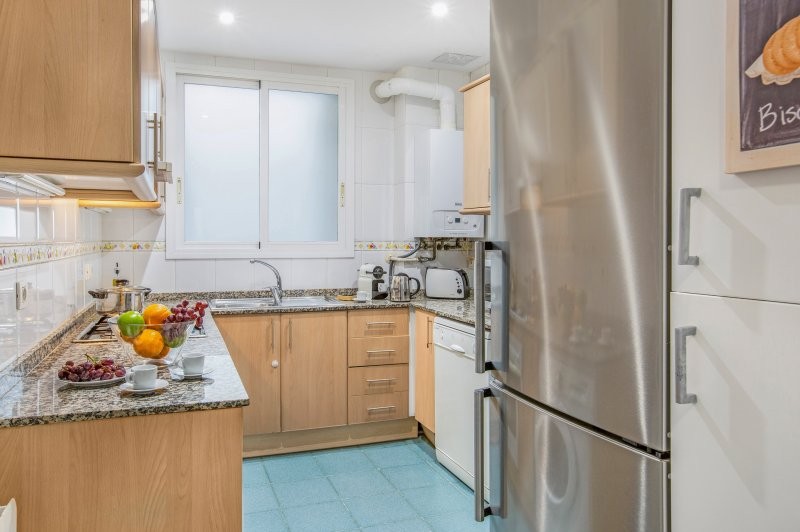 Image gallery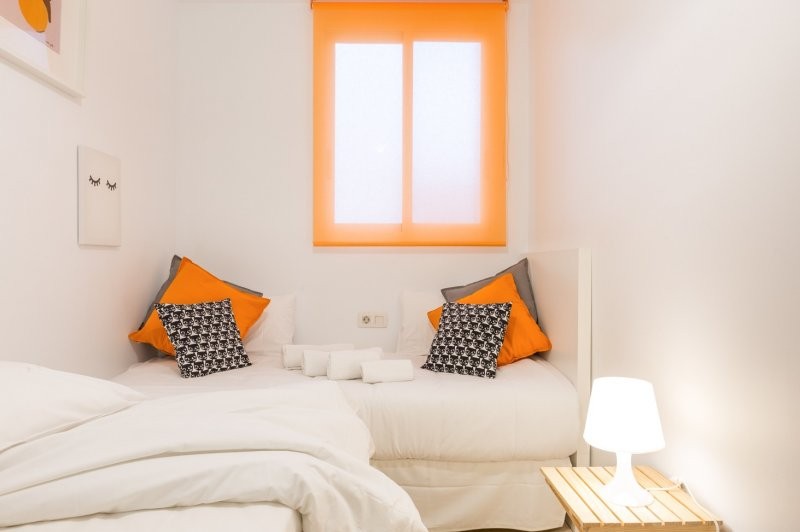 Image gallery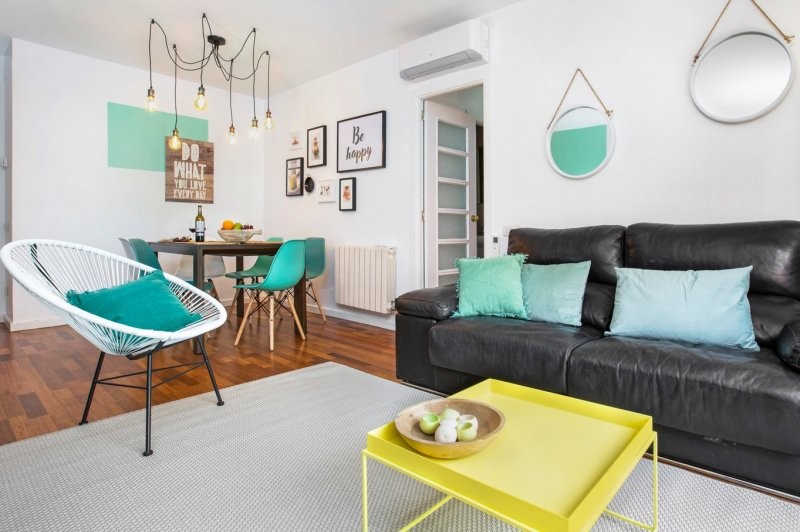 Image gallery
Image gallery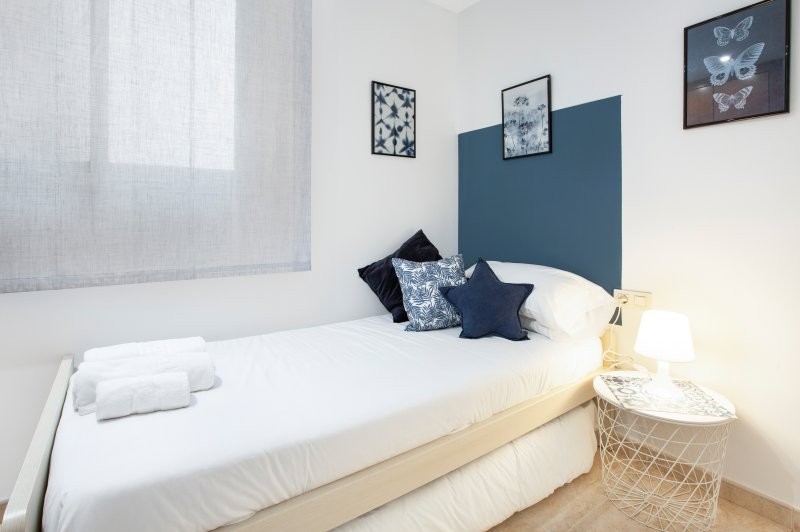 Image gallery
Image gallery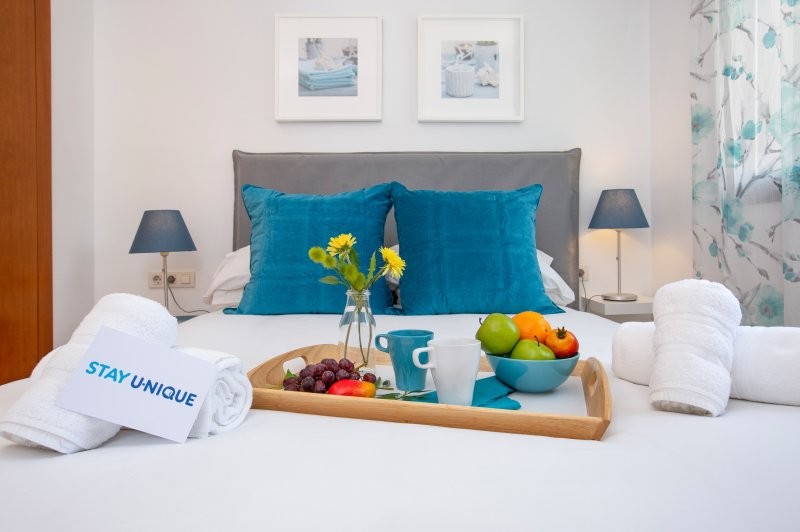 Image gallery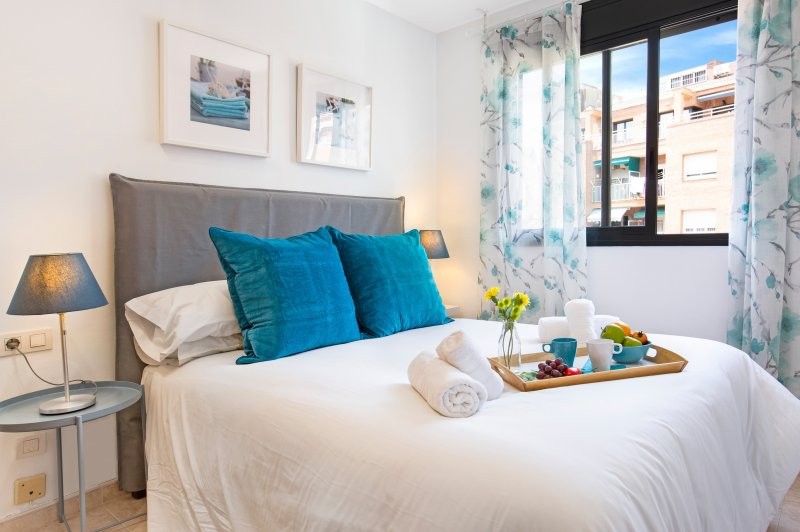 Image gallery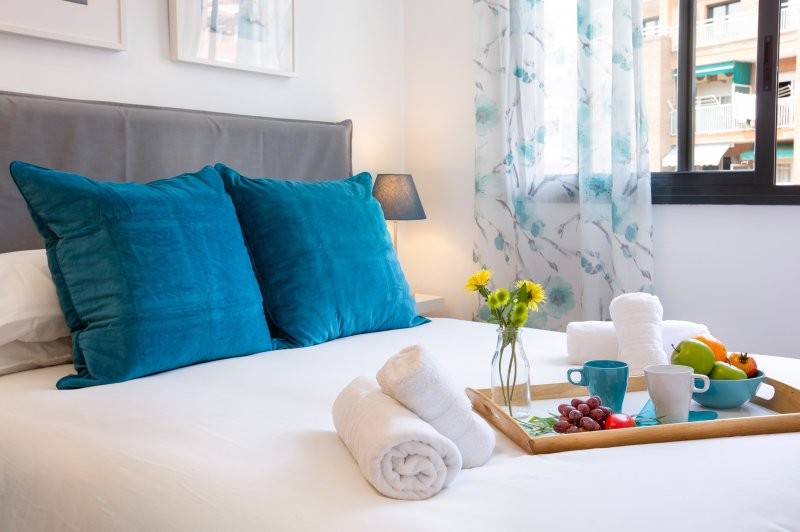 Image gallery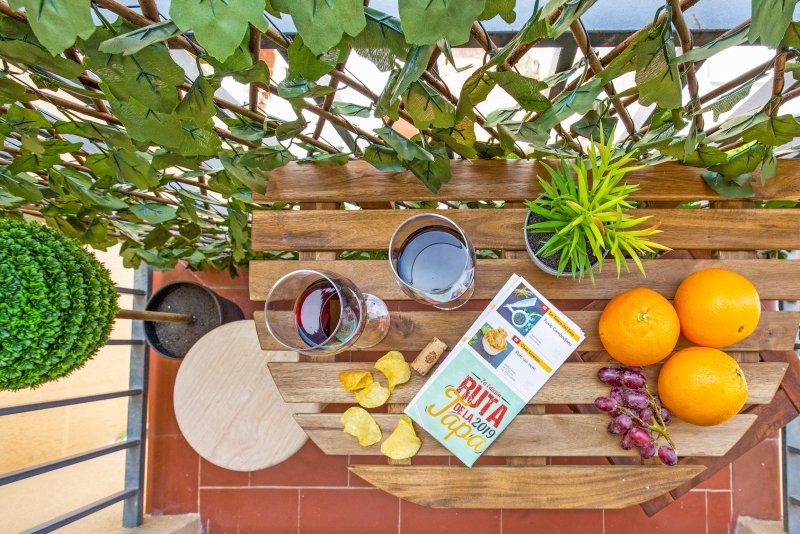 Image gallery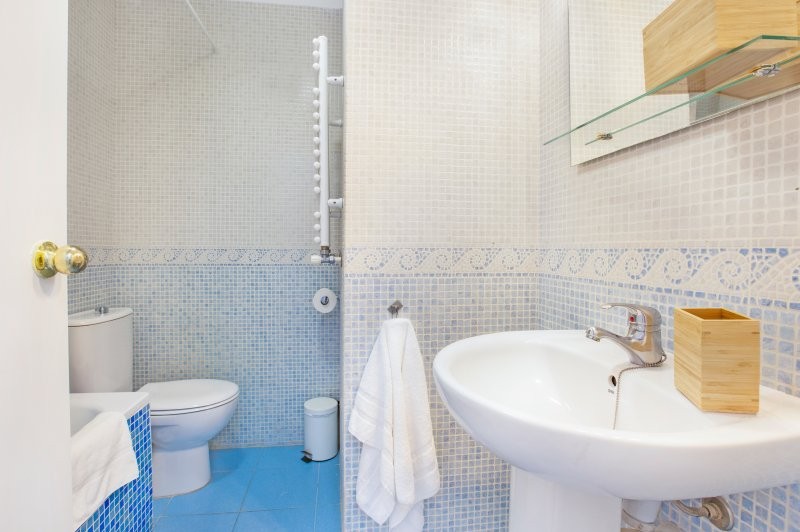 Image gallery
Image gallery
Image gallery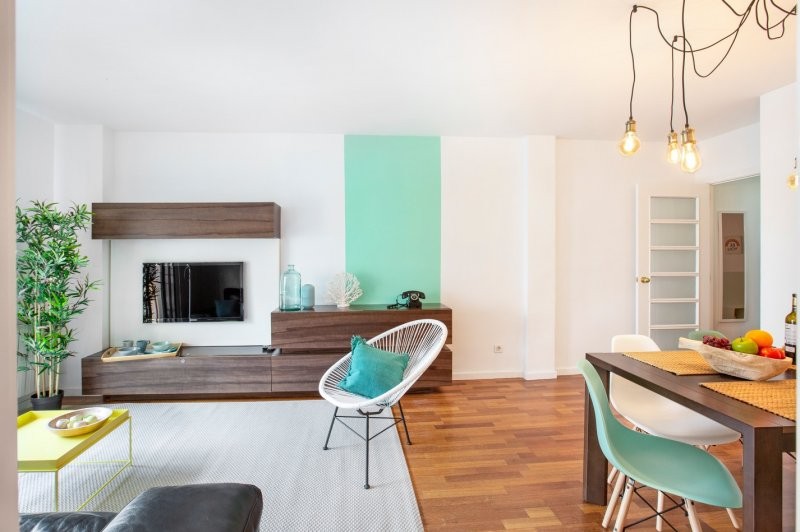 Image gallery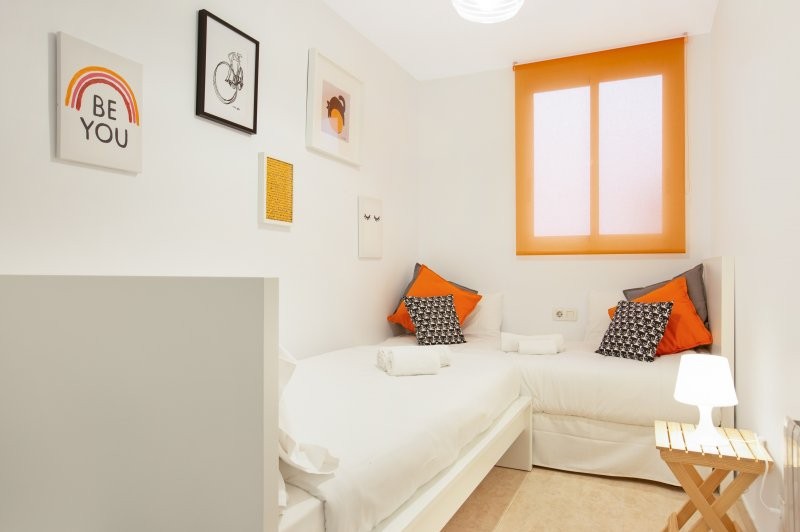 Image gallery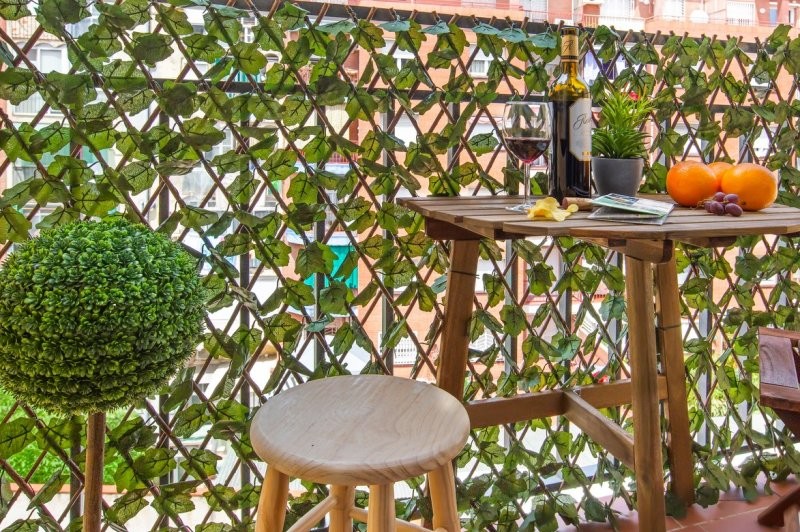 Image gallery
Image gallery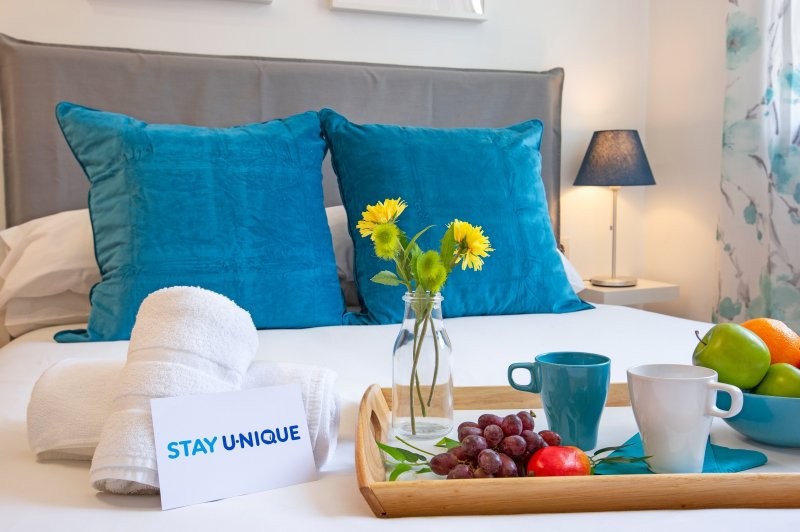 Image gallery
Barcelona
Gorgeous apartment with private balcony in Poble-sec
ADVANTAGES OF BOOKING WITH US
Disponibilidad 24 horas
7 días a la semana
Mejor precio
online garantizado

License number:
HUTB-010852
Description
10-Min walk to Fira de Barcelona
13-Min walk to Plaça d'Espanya
☆ Private Balcony
☆ Family apartment
This gorgeous modern apartment is located in El Poble-sec, known for its creative tapas bars, the apartment is fully equipped with 2 double beds and 4 single beds, making it perfect for large families or a group of friends looking to explore the city. Access to public transport is only a few minutes' walk away and it's easy to get to restaurants.

Experience Barcelona With Us & Learn More Below!

Here Are A Few Kind Words from Our Past Guests:

'Very nice apartment- silent and comfortable. The stay u-nique team has been great and assisted in a timely and complete fashion. Location is near metro and near shops. You can walk to sea or city centre.' – Corrado

Stay U-nique is amazing. Our check was at 1:30 am on a Saturday, and they were there, waiting to welcome us. Gave us all the information, were so helpful explaining and going through everything in the house. They left us shampoo, conditioning, soap and there was a hair drier and towels. I. The apartment is a few blocks from Montjuic, which is a MUST see. Thank you for a great stay! - Ana

☆☆ Bedrooms ☆☆
This stunning apartment features two double beds, a twin bed and a single, offering space, comfort and privacy. All bedrooms have name brand linen and soft lighting. The windows in the double bedrooms are big and will give you enough natural light to start the day off right. The bedrooms are warm and inviting, and a great place to relax after exploring the beautiful city. Each bedroom has a different colour scheme, giving the apartment a cool & unique feel, ensuring you have a memorable stay.

☆☆ Bathroom ☆☆
This spacious unit has two full bathrooms, both are beautifully tiled and will provide you with all the features needed for ultimate refreshment and relaxation. The modern vanity sits under a mounted mirror and is completed with a single sink under this. Th bathrooms area a rewarding place to get ready for a busy day to unwind from one.





☆☆ Kitchen & Lounge ☆☆
While you may want to spend your time exploring Barcelona's famous eateries, sometimes there is nothing quite like a home-cooked meal. This apartment features a fully furnished kitchen with everything you need to make meal preparation easy. The custom cabinets will provide you with plenty of space to story your family's favourite groceries. The kitchen is very accessible and will make it easy for you to cook for your hungry crew.
The lounge area is in the perfect part of the apartment, making it easy to chill and relax whilst enjoying a cool breeze next to the private balcony. In the lounge area you will find high-end couches and décor. The perfect spot to catch up on a conversation or watch TV.

☆☆ Outside Space ☆☆

The outside space for this apartment is incredible, the personal balcony gives you some private space to enjoy. Stepping outside the apartment will also give you some great options of eateries, being close to so many tapas bars will mean you will never be hungry living at this apartment.

☆☆ Book Today & Let Us Take Care Of You In Barcelona ☆☆

When you stay in this beautiful luxury unit, you have access to everything. The unit is rented out to one family at a time, so you have ultimate privacy and space. Your host will be happy to meet you upon arrival and give you all the information you need for a comfortable and relaxing stay.

Business travellers can pop open their laptops, connect to the speedy WiFi, and keep connected with customers, clients, family, and friends back home. Families traveling with young children will have access to a baby crib, just let us know of this need beforehand so we can have it set up for you!

Key Features:
- Perfect for big groups of people
- 4-bedroom apartment (two double beds)
- 2 bathrooms
- Fully equipped kitchen area with dining table
- Spacious & modern lounge
- Access to the internet

We are always available via Airbnb chat or phone if you need help, have questions or any concerns. You can contact us for any reason, from restaurant recommendations to how to use the washing machine. You will also meet one of us in person during your check-in where we will show you around and give you the keys.

This apartment is managed by Spain's Leading Serviced Apartment Brand, as awarded at the World Travel Awards 2019! We are honoured to receive this award and continue raising the standards of service in the hospitality and tourism industry. Thank you for your continued support!

By staying in this apartment, you are taking part in the WERESPECT initiative, focussed on promoting the relationship between holiday rental managers and their local communities. We ask you, as our guests, to join us in promoting sustainable tourism by being respectful of our neighbours and remaining conscious of your surroundings.

We support a local charity called Casals dels Infants, which support children from under privileged families in Barcelona and other Spanish and Moroccan cities. By booking this apartment, you are helping to contribute to this wonderful charity, and through this, better the lives of children who don't have much. If you wish to know more about Casals Dels Infants, don't hesitate to send us a message :)

Early Check in? Late check out? No problem! We can't actually let you into the apartment earlier, or let you stay longer, but we work with a great service that can take care of your suitcases for you if you arrive much before check in time, or fly out much later than check out time, so you can enjoy your day in the city without carrying them around. If you want to know more, don't hesitate to write us!

CEE: Yes / Energy Consumption: E / Emissions: E
equipment
Internet
refrigerator
towelsLinen
toilets
hairdryer
air conditioning
balcony
lift
microwave
parking
terrace
satTv
swimmingPool
washing machine
SPECIFICATIONS
arrival
PAYMENT AND CANCELLATION POLICY
7 days fully refundable
7 days before arrival you can cancel with full refund. Within 7 days no refund
House's rules
DO NOT BOOK BEFORE READING THESE RULES.

No Smoking: Please notice that this is a strictly non-smoking apartment.
The apartment is fitted with smoke detectors.

No Parties: Strictly no parties are allowed in this apartment as the apartment is located in a residential building. If you are coming to party, please book somewhere else.

No noise at night: No excessive noise is allowed after 21/9PM as the apartment is located in a residential building.

The apartment has a NoiseAlarm installed: This device only measures the volume level of noise and sends an alert when exceeding the maximum limit set. By NoiseAlarm only measuring the sound pressure, it does not record any audio, video nor conversations, and offers 100% of privacy to the guests.

This system collaborates to make tourism more sustainable, for more information visit www.roomonitor.com If you do not adhere to these rules, we reserve the right to ask you to leave immediately, as our relationship with our neighbors is of the utmost importance to us.

Late check-ins: If you arrive outside of normal hours, please note that there is a late check-in fee. If you arrive after 21/9pm the fee is 20€, and after 24/12am the fee is 50€.

If a guest loses a set of keys during their stay, an 80€ fee will apply.

Please keep in mind that if you book last minute (less than 24 hours before your arrival), the official check-in time will be subject to our availability and will be after 4:00 PM.

City Tax: We have to charge you the Barcelona City Tax of 4.40€ per guest above 17 years of age per night, before arrival to the apartment. To understand the calculations, 3 people staying for 3 nights is 39.60€ (4.40 x 3 X 3 = 39.60).

Passport information: It is required by law to register all people staying in any tourist accommodation by their full name, birth date, and passport number. We will therefore request you to provide us with this information before your arrival.

Send this sentence and the ages of your group with your first message: Roses are red, violets are blue, I have read the house rules as I was supposed to.
reviews
We would highly recommend this accommodation to other travelers. It is clean, comfortable and in a fantastic location. We really valued being close to but out of the touristic center. Very close to a metro station and surrounded by wonderful, local tapas bars and restaurants, yet absolutely peaceful during the night. We very much appreciated the helpful tips, the responsiveness to questions, and especially the proactive suggestion regarding luggage handling after check-out (the recommended service was brilliant!). Somehow, the apartment doesn't look quite as it does in the AirBnB promotional photos (but they never do!!!), but we had all we needed and more. And the beds were so very comfortable, with good pillows and linens - just perfect. One thing we truly appreciated were the small things (like small containers of shower gel and shampoo, small container of dish soap, a laundry and dishwashing machine with small containers of detergent for each, a nespresso maker with pods, tea bags.
Great location, the apartment is clean and equipped with everything you could need.
The accommodation was very comfortable for our 5 day's trip. Location is in central city, close to restaurants, shops, clubs and traditional places. We spent best time in Barcelona with our family members. Thank you so much
Geweldig verblijf gehad. Van te voren werd er duidelijk gecommuniceerd over de aankomst etc. Vriendelijke ontvangst en goede tips gekregen voor restaurants in de buurt!
Très bien, emplacement idéal et très pratique
האזור מעולה. שקט וקרוב כ 10 דקות לפלאזה אספנייה ו 2 דקות למטרו. סופרמרקט גדול צמוד למבנה. תקשורת מעולה עם המארחים. לדירה שמתיימרת לארח עד 8 אורחים הסלון קטן למדי והספה יכולה להכיל כ 3-4 אורחים. סהכ שימשה אותנו הדירה מעולה ונהנינן
Such friendly and hospitable hosts. We had celebrated two birthdays while staying in Barcelona. On both days the hosts dropped off gifts and care packages. They went above and beyond in every way that they could. 10/10 would recommend & stay again! This was "home" this week.
The apartment is nice and comfortable. Good location, near shops and public transport
Great location, great service and good value. If you want to see Barcelona, this is a great place to stay. We will be back.
The flat was just as in the photos, the location is great with several Markets near and with the Metro station just down the road. Check in was very smooth and the communication worked flawlessly, I can warmly recommend this place!
We really enjoyed staying in this apartment. Apartment was clean and whole house was peaceful and quiet. There was enough space and beds for five people. Location was very great. Metrostop was near and you can also walk to The Rambla street and gothic City. There was many supermarkets, restaurants and manykind of shops at near by apartment. We had little bit problems to get in to The apartment when we first arrived. Smartlock system worked well but there was one locked door between stairways and the apartment corridor. But after we got keys from apartment that door was not problem anymore. We can warmly recomend this apartment.
Nice appartment and a good location.
Great stay at the apartment, very close to everything and public transportation was easy to get down the street whether it was taxi or metro. Great restaurants walking distance and multiple markets around. Inside looked a little bit old than the pictures provided but not bad at all! Kind of had to lift one of the bathroom doors to not make sound from it touching the floor but it was great having 2 bathrooms! Also loved how it was easy to lock and unlock doors with keys or virtually. Thanks for letting us stay as we enjoyed it!
We stayed there for 3 days and the location was great as everything was walking distance and the place is really quite so we could get a very good rest. Everything was very convenient and well-organized. I would definitely recommend Stay U-Nique if you want to visit Barcelona.
Very cool location near placa navas and poble sec , easy acces and cool appartment for 3bedrooms !
Big apartment in a central location. It was clean and has all the necessary amenities required for short stay. Overall we find it very good!
Great location. Clean, comfortable place. Great communication with management company. A couple items - the kitchen accessories were a little on the light side, but certainly manageable. The air conditioning units worked great, but a couple of fans would have helped. The balcony is small and not really usable when the a/c is on. The a/c exhaust vents on the balcony. But all in all, certainly a viable short term stay in Barcelona.
Great location. Comfortable apartment
Great location very close to metro. Several wonderful restaurants within walking distance. Supermarkets available as well. Apartment had a lot of space - 4 bedrooms! The safe in the closet was a plus for security. Bathrooms could use some updating but worked with no issues.
Quiet appartment not far from many interesting places to visit. It was very clean and has all the necessary amenities. The bedrooms are quite small, but it was well suited for 4 adults. Communication with the host was very easy and friendly and with a quick response. We had a small issue with the water heater that was solved very quickly and with no fuss. I would definitely rent a Stay U-Nique place again!
Appartement très propre et bonne literie . Bon emplacement . Par contre beaucoup trop de règles , les propriétaires sont très strictes mais nous avons eu des fuites , des odeurs de remontées d'égout et plus d'eau chaude le dernier jour et personne n'est venu. En bref nous avons été déçu par rapport au prix . Lorsque l'on est exigent dans un sens, on l'est dans l'autre .
מיקום מעולה, מקום שקט במרכז העיר קרוב להכל
Very Good place and location
Mieszkanie w stanie dobrym +, dobrze wyposażone, posprzątane, dobrze położone. Jedyny mankament to codzienny zapach wydobywający się z łazienek/kanalizacji był nieprzyjemny dla wszyskich.
Great location. Good value flat for a cheap Barca stay.
The apartment was great! The train was super close and there was plenty of stores and restaurants near!
Big apartment in a central, quiet location! All was good!
Emplacement de l'appartement idéal ,station métro poble sec à 50 m ,lignes de bus également .Quartier très sympa calme et toutes les commodités y sont . Appartement spacieux ,bien décoré ,fonctionnel ,et calme .....nous avons passé un excellent séjour !
Comfortable flat that is really well placed to visit both on foot or via metro. Good equipments and a perfect and clear arrival procedure, with good communication from the hosts. The flat is really good for a few days in Barcelona.
Nice beds, ok equipped kitchen, clean bathrooms, spacous flat. Unfortunately very worn and could definitely do with some renovation. Perfect location!! Easy check-in and communication Overall a good stay for us. Regards, Laerke
Location is very nice and quiet - 1-minute walk to metro station, very close to Plaza Espanya, close walk (15-20 minutes) to Plaza Catalunya, La Rambla and other sights. The apartment is very close to Montjuic, we enjoyed our walks there. The supermarket is just downstairs. The apartment itself is okay, though not so fresh and shiny as in photos. The Check-in process was smooth, communication was very fast and easy. Everything was clean except the floor - it was dusty (we were happy to have our slippers with us).
Lovely space and really great location! The hosts are very helpful and quick to respond - they even were able to allow an early check in when our flight arrived a bit early. Would definitely return!
Add dates to see availability