Thank you for contacting us!&nbsp
You will receive a response shortly.
Make a booking
Book
Phone
en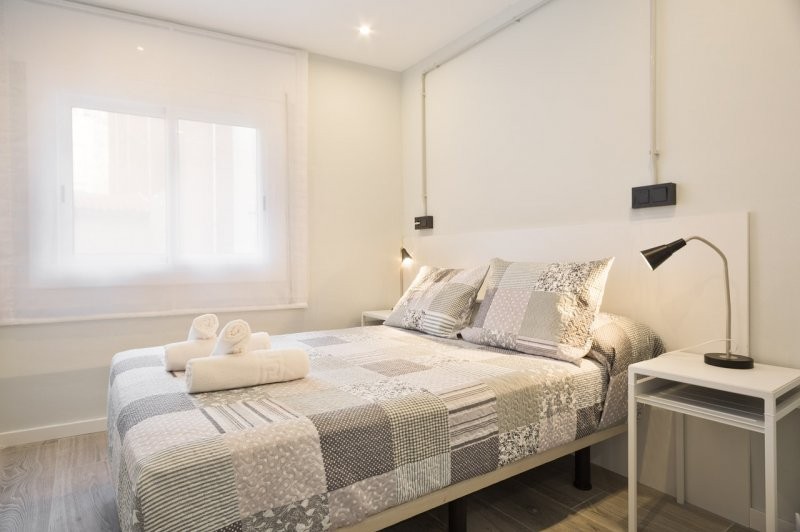 Image gallery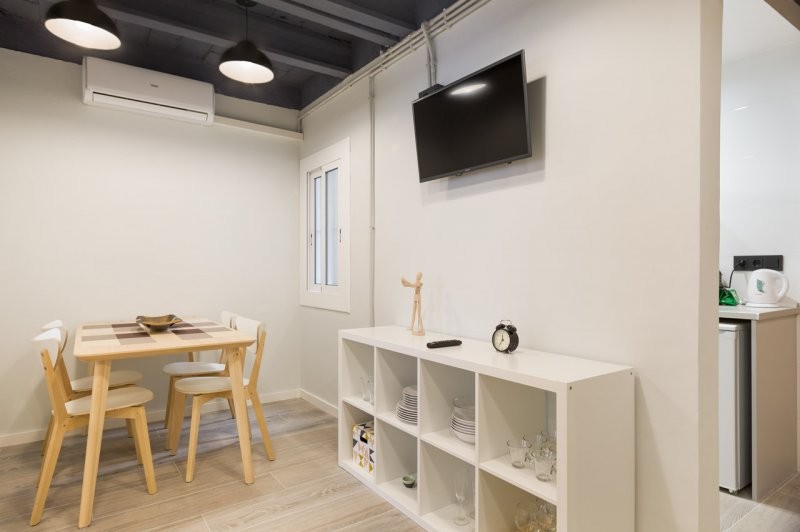 Image gallery
Image gallery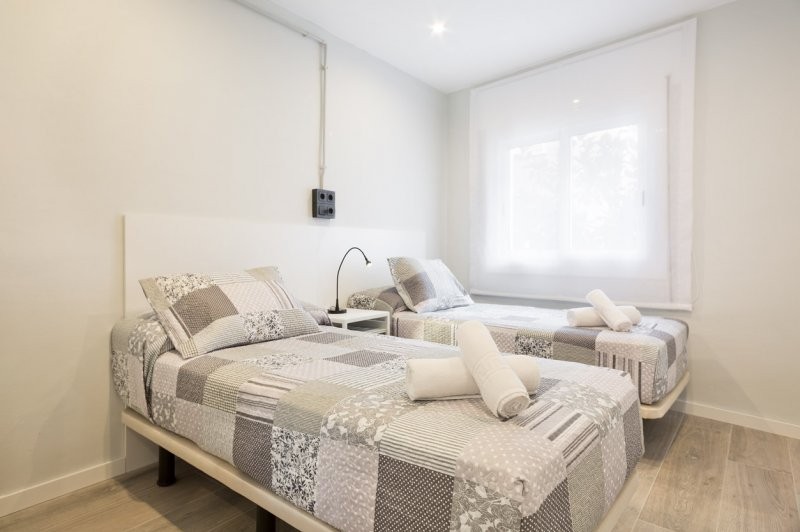 Image gallery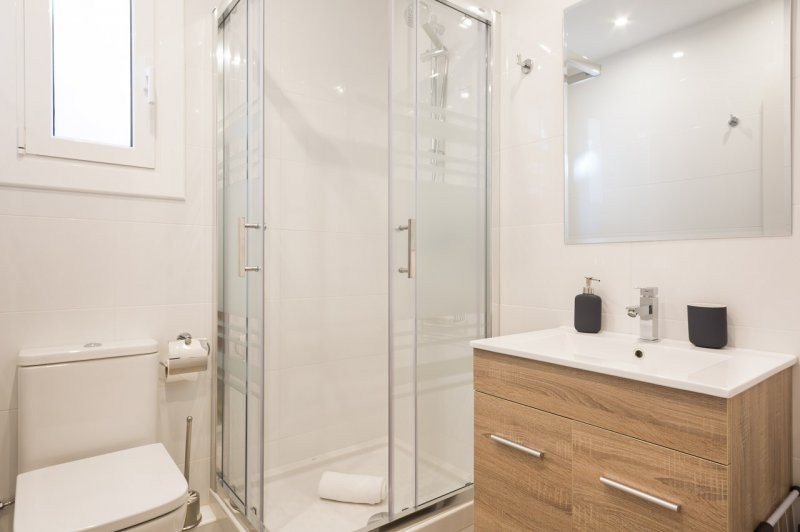 Image gallery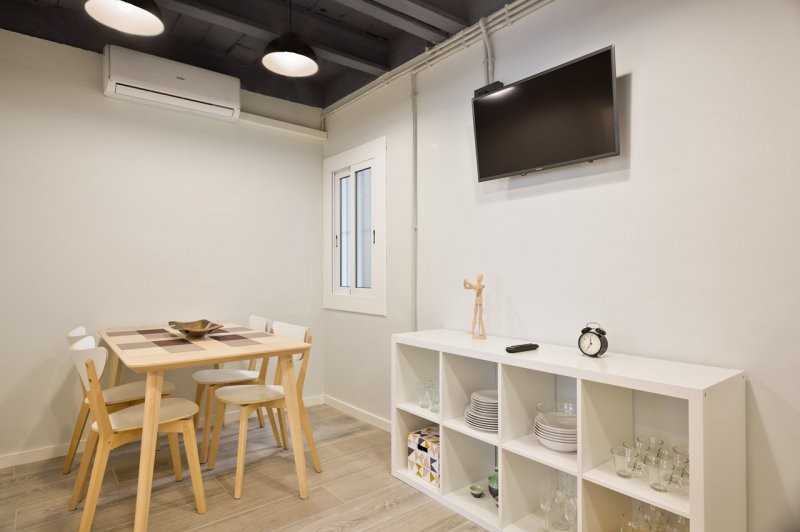 Image gallery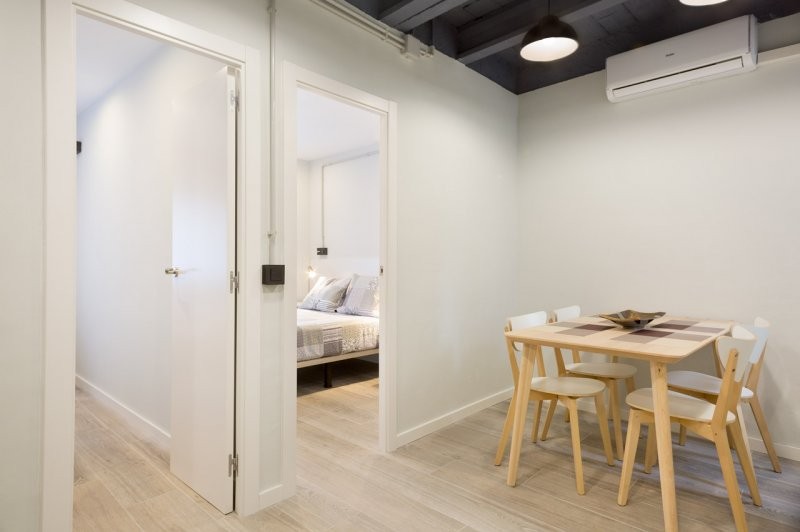 Image gallery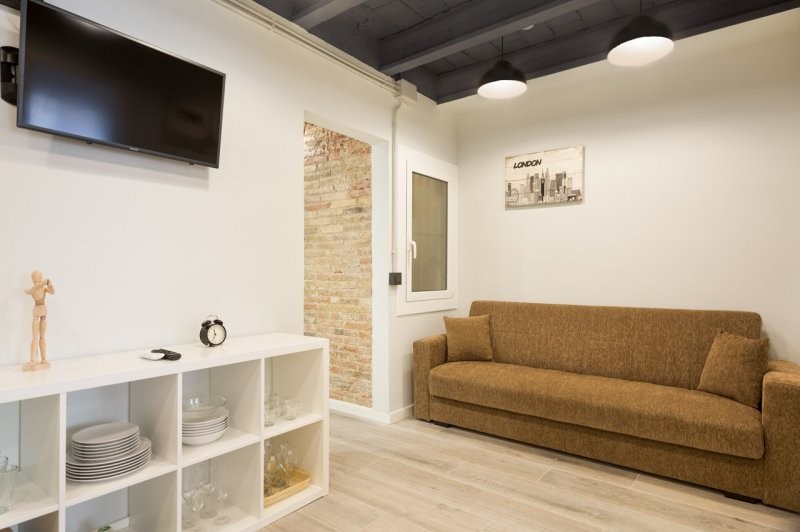 Image gallery
Image gallery
Image gallery
Image gallery
Image gallery
Barcelona, l'Hospitalet de Llobregat
MODERN AND NEW APT NEAR FCB CAMP NOU
ADVANTAGES OF BOOKING WITH US
Disponibilidad 24 horas
7 días a la semana
Mejor precio
online garantizado

License number:
HUTB-016312
Description
15 Min Metro to La Sagrada Familia
22 Min Metro to Plaça Catalunya
☆Close to Camp Nou Football Stadium
☆Stylish interior

This stylish and modern apartment is located close to FC's Barcelona iconic Stadium. Fully equipped with two bedrooms and a fully equiped kitchen to cook your favorite meals. Access to public transport is only a few minutes' walk away and it is very easy to get to restaurants, cultural hotspots.

Experience Barcelona With Us & Learn More Below! ***


The space

Here Are A Few Kind Words From Our Past Guests:

''Great place, great staff! Highly recommended" Beatriz

''Thank you so much for all your hospitality! We felt right at home. The place was cozy and clean. Every question we had was answered so quickly and with kindness.''- Shirley

☆☆ BEDROOMS ☆☆
This stunning Barcelona apartment features two bedrooms for up to 4 guests. One bedroom has a high-end double bed and the other has two single beds. Both have name brand linens, soft lighting and simple decoration. The bedrooms are warm and inviting, and a great place to relax after exploring the beautiful city.

☆☆ BATHROOMS ☆☆
This unit has one full bathroom and it's far from ordinary. The beautifull bathroom has all the features for ultimate refreshment and relaxation. The modern vanity sits under a wall-mounted mirror and is complete with a single sink. This bathroom is a rewarding place to get ready for a busy day or unwind from one.

☆☆ KITCHEN & LOUNGE ☆☆
While you may want to spend your time exploring Barcelona's famous eateries, sometimes there is nothing like a home-cooked meal. And this apartment features a fully furnished kitchen with everything you need to make meal preparation easy. Custom cabinets provide plenty of space to store your family's favorite groceries, and modern appliances, including a whisper-quiet dishwasher, make it easy to cook meals for your hungry crew.

Start a pot of coffee in the mornings, and eat breakfast together in the cozy breakfast nook overlooking the beautiful temple.

The lounge area sits in the center of the apartment, making it easy to move about the space. You'll find high-end couches and contemporary fixtures and decor. The mostly white space accented with sober colors is the perfect spot to catch up with conversation or watch TV.

☆☆ OUTSIDE SPACE ☆☆
While there is no private patio or balcony connected to this unit, staying here allows you to step out of your front door and be immersed in the culture and beauty of Barcelona. You are just a short walk away or metro ride from patio cafes, restaurants, sidewalk boutiques, and some of Spain's most iconic and historic landmarks.

★☆ Book Today & Let Us Take Care Of You In Barcelona! ☆★ ***

Guest access

When you stay in this beautiful luxury unit, you have access to everything. The unit is rented out to one family at a time, so you have ultimate privacy and space. Your host will be happy to meet you upon arrival and give you all the information you need for a comfortable and relaxing stay.

Business travelers can pop open their laptops, connect to the speedy WiFi, and keep connected with customers, clients, family, and friends back home. Families traveling with young children will have access to a baby crib, just let us know of this need beforehand so we can have it set up for you!

KEY FEATURES:
☀ 2 large bedrooms; one with a double bed, the oter with two single bed
☀ 1 bathroom with shower
☀ Fully-equipped kitchen area with dining table
☀ Spacious and modern lounge
☀ Access to the Internet

Interaction with guests

We are always available via Airbnb chat or phone if you need help, have questions or any concerns. You can contact us for any reason, from restaurant recommendations to how to use the washing machine. You will also meet one of us in person during your check-in where we will show you around and give you the keys.

Other things to note

This apartment is managed by Spain's Leading Serviced Apartment Brand, as awarded at the World Travel Awards 2019! We are honoured to receive this award and continue raising the standards of service in the hospitality and tourism industry. Thank you for your continued support!

By staying in this apartment, you are taking part in the WERESPECT initiative, focussed on promoting the relationship between holiday rental managers and their local communities. We ask you, as our guests, to join us in promoting sustainable tourism by being respectful of our neighbours and remaining conscious of your surroundings.

We support a local charity called Casals dels Infants, which support children from under privileged families in Barcelona and other Spanish and Moroccan cities. By booking this apartment, you are helping to contribute to this wonderful charity, and trough this, better the lives of children who don't have much. If you wish to know more about Casals Dels Infants, don't hesitate to send us a message :)

Early Check in? Late check out? No problem! We can't actually let you in to the apartment earlier, or let you stay longer, but we work with a great service that can take care of your suitcases for you if you arrive much before check in time, or fly out much later than check out time. If you want to know more, don't hesitate to write us!

CEE: Yes / Energy Consumption: D / Emissions: D
equipment
Internet
refrigerator
towelsLinen
toilets
hairdryer
air conditioning
balcony
lift
microwave
parking
terrace
satTv
swimmingPool
washing machine
SPECIFICATIONS
arrival
PAYMENT AND CANCELLATION POLICY
7 days fully refundable
7 days before arrival you can cancel with full refund. Within 7 days no refund
House's rules
DO NOT BOOK BEFORE READING THESE RULES.

Please note, that at least one member of your group needs to be above 30 years of age to stay in this apartment."

No Smoking: Please notice that this is a strictly non-smoking apartment.

The apartment is fitted with smoke detectors.

No Parties: Strictly no parties are allowed in this apartment as the apartment is located in a residential building.

If you are coming to party, please book somewhere else.

No noise at night: No excessive noise is allowed after 21/9PM as the apartment is located in a residential building.

The apartment has a NoiseAlarm installed: This device only measures the volume level of noise and sends an alert when exceeding the maximum limit set.

By NoiseAlarm only measuring the sound pressure, it does not record any audio, video nor conversations, and offers a 100% of privacy to the guests.

This system collaborates to make tourism more sustainable, for more information visit www.roomonitor.com If you do not adhere to these rules, we reserve the right to ask you to leave immediately, as our relationship with our neighbors is of the utmost importance to us.

Please keep in mind that if you book last minute (less than 24 hours before your arrival), the official check-in time will be subject to our availability and will be after 4:00 PM.

Late check-ins: If you arrive outside of normal hours, please note that there is a late check-in fee. If you arrive after 21/9pm the fee is 20€, and after 24/12am the fee is 50€.

City Tax: We have to charge you the Barcelona City Tax of 1,10€ per guest above 17 years of age per night, upon arrival to the apartment. To understand the calculations, 3 people staying for 3 nights is 9,9€ (3 x 3 X 1,10 = 9,9).

Passport information: It is required by law to register all people staying in any tourist accommodation by their full name, birth date, and passport number. We will therefore request you to provide us with this information before your arrival.

Send this sentence and the ages of your group with your first message: "Roses are red, violets are blue, I have read the house rules as I was supposed to"
reviews
Bardzo udany tydzień, lokalizacja jest naprawdę dobra bo jest około 2 minut od stacji metra, w niedalekiej okolicy solidne bary piekarnie i kawiarnie. Bardzo blisko camp nou do którego można pojechać również autobusem w 3 minuty a na nogach 12-13 minut. Sama lokalizacja może i nie jest w centrum Barcelony ale naprawdę łatwo się wszędzie dostać dzięki Metru. W apartamencie nie było super ciepło szczególnie w nocy a ogrzewanie nie dawało rady nagrzać dwóch pokoi i myśle ze na okres na przykład lutego tak jak my byliśmy warto by było apartament zaopatrzyć w farelkę. Jedyny mankament jest taki, że w apartamencie wszystko szybko się kurzy. Poza tym wystawiam bardzo wysoką ocenę ponieważ wszystko było w jak najlepszym porządku i dzięki temu mogliśmy zwiedzić bardzo dużo rzeczy w Barcelonie a powrót do apartamentu i odpoczynek był czymś bardzo przyjemnym. Serdecznie polecam!!!
Very convenient location, close to metro, a lot of supermarkets, shops and utilities nearby. The host was very friendly and responsive. Air conditioning with heating was a big hep during Xmas time! In general, everything was up to standard. We did have some issues with the way the hot water functioned. When you had a shower, your hot water could suddely turn cold and restore after a minute or so. Seems to be a building issue. Still, it did not spoil our experience and I would sincerely recommend this apartment for future visitors.
Excelente, gostamos muito!!!
En general todo bastante bien. Piso limpio y bastante bien comunicado, ubicado en Hospitalet
Everything was perfect. We spent a whole week. Metro station is very close and you can reach many places easily from it. The apartment is very comfortable.
Appartement à proximité du métro et très propre. Arrivée tardive mais avons été très bien accueillis.
Staying for school holidays with 2 kids. The apartment is in a great location close to a metro station - very convenient to get around the city for sightseeing. We've never used any taxi and visited at least one popular place each day (we needed to take a buggy for the smaller one and it is not a problem for Barcelona public transport). Lots of shops around as well to get food and basics. The apartment itself is clean, has all that is needed: microwave, stove top, fridge, washing machine, ironing board and even a Nescafe Dolce Gusto coffee machine (you can buy the capsules in any shop and enjoy your favourite coffee drinks in the morning). One thing we've noticed is the hairdryer had a burnt plug, so decided not to use it. Contacted the host about it and a new hairdryer was delivered to us within 30 mins. Great service and support! Overall, recommend the place and will definitely consider it next time in Barcelona!
Merci Humberto pour l'appartement, c'était top. Tout à disposition
it was wonderful. great transport to the city centre and other attractions like Camp nou as my boys love football but are Arsenal fans.
El deparramento es comodo y con estupenda conexión. Su anfitrion trata de colaborar en todo.
Amazing location and neat appartement. The design reminded me of an Ikea showroom
Amazing place and a great location. Clean and host was super responsive.
todo muy limpio y muy cerca del metro!
The place is perfectly located. Very easy acces to metro and busses. Also easy access to local market.
Humberto, Cata and Elsie were very welcoming when we check in. Elsie also assisted us when we first check in to apartment. House is entirely amazing with it's location, furniture and all. There is also rooftop which you can use all day on top of the building. I would like to thank to Humberto, Cata and Elsie on behalf of my wife and friends for this great hosting once again. I recommend the apartment to all Airbnb travelers.
Wszystko świetnie przygotowane, czysto, przestronnie, doskonały dojazd metrem w każdą stronę, wiele sklepów i targ w pobliżu. Wszystkie udogonienia na miejscu: internet, żelazko, filtr brita, klimatyzacja i miły poczęstunek. Jedynie wrażliwi na hałasy w nocy mogą mieć problem z zaśnięciem, ale zatyczki pomagają :)
Very responsive and helpful. Easy check in and clean, fresh apartment.
Appartement très bien placé, proche du métro. Bien meublé et moderne. L'appartement serait parfait avec une isolation phonétique.
Add dates to see availability