Thank you for contacting us!&nbsp
You will receive a response shortly.
Make a booking
Book
Phone
en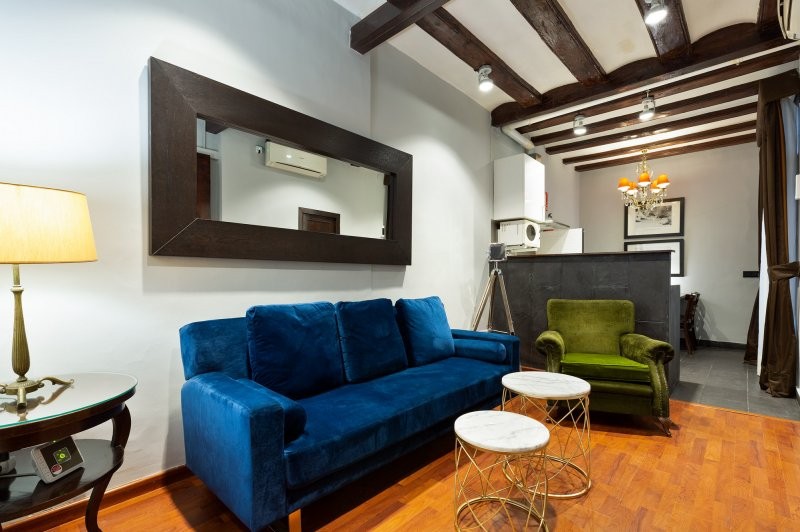 Image gallery
Image gallery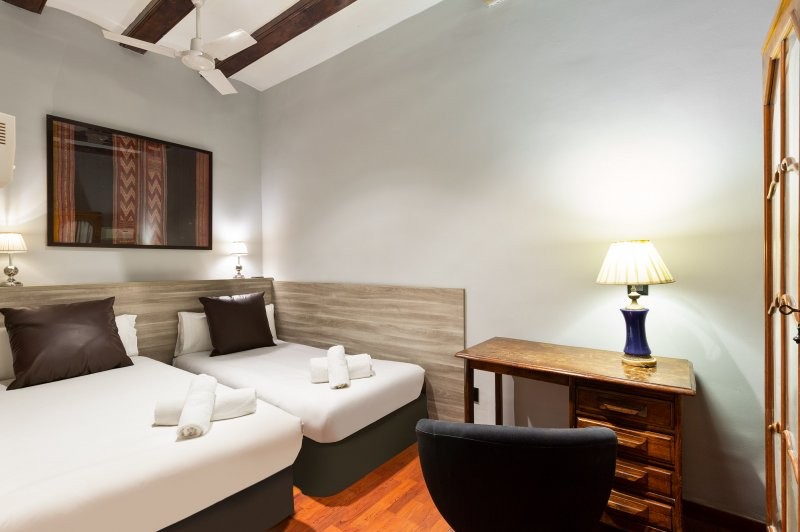 Image gallery
Image gallery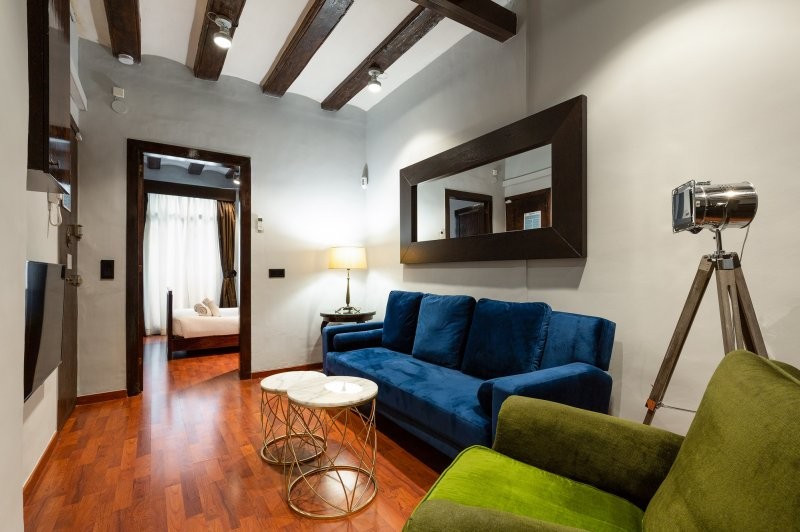 Image gallery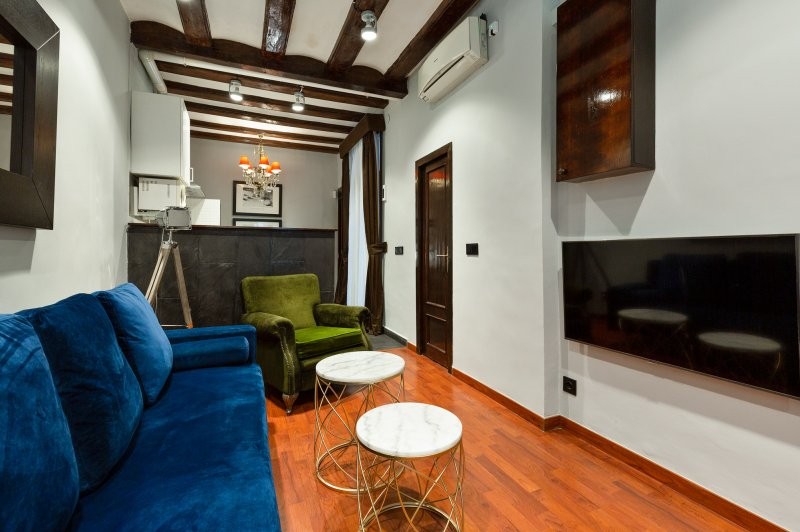 Image gallery
Image gallery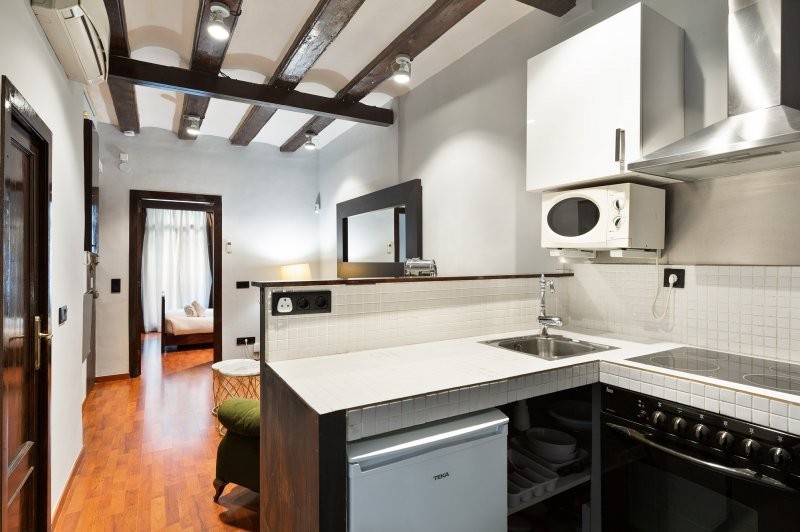 Image gallery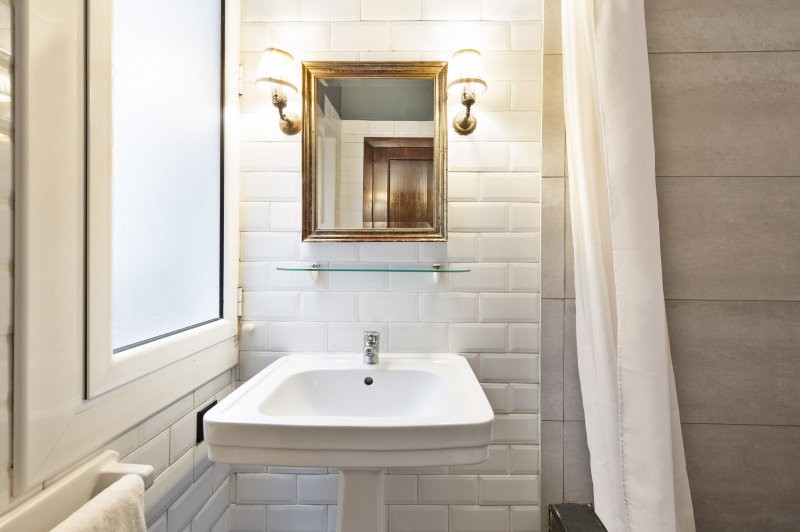 Image gallery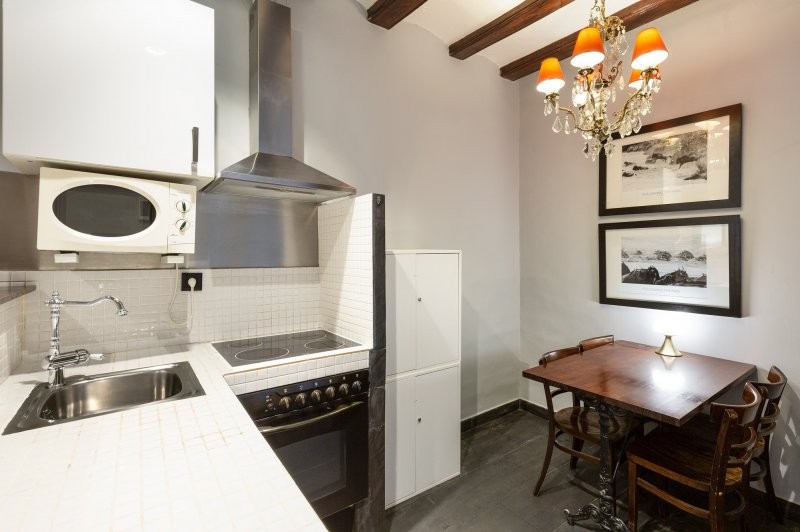 Image gallery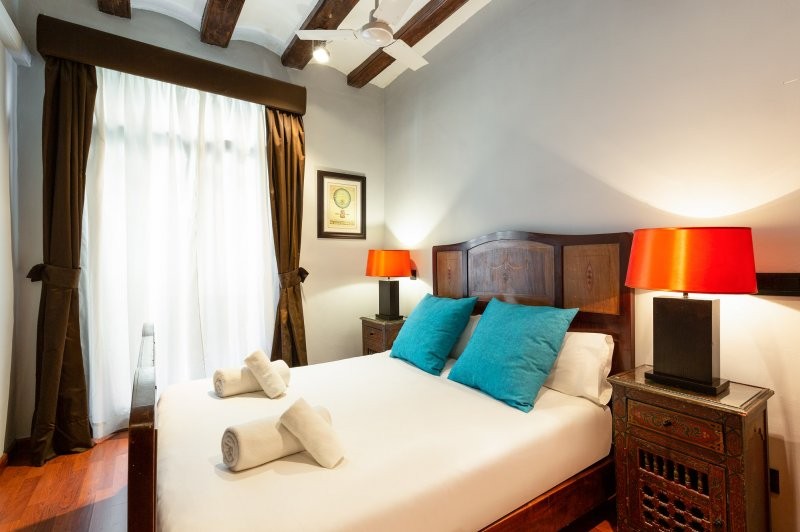 Image gallery
Image gallery
Barcelona
Vintage style apartment in Gothic Quarter
ADVANTAGES OF BOOKING WITH US
Disponibilidad 24 horas
7 días a la semana
Mejor precio
online garantizado

License number:
HUTB-002524
Description
15 walk to Plaça Catalunya and Las Ramblas
☆ MODERN / CLASSIC apt
☆Old City Center

Imagine stepping out your door and be right in the heart of Barcelona. Amongst Barcelona Cathedral, Famous Squares, Las Ramblas and everything else Barcelona old town has to offer. If you like the sound of that, stay here! Fully equipped with two bedrooms.

Experience Barcelona With Us & Learn More Below!

the space

Here Are A Few Kind Words From Our Past Guests:

''My husband an I traveled to Barcelona with our two college age daughters and this location was perfect for us. Las Rambles was steps away and it was close to train stations when we ventured out a little further. Super responsive hosts-they helped us get tickets to the Barcelona/Arsenal game and the seats were phenomenal. Heed the "quiet after hours" warnings—it is a residential building. We would stay here again in a heartbeat'' - Leah

''We had an fantastic stay at this tasty little flat in the Gothic Quarter. The apartment and amenities were on point. The Stay U-nique team was very responsive and helpful. Check-in and check-out were a breeze. We also really enjoyed staying in this neighbourhood. It's bustling and beautiful and close to so many other good things. Thank you, Stay U-nique! :)
''- Marco

Please not that this apartment does not have an elevator.

Please note that from the 15th of October till the 15th of March there is construction work in the building which might affect your stay at the apartment during business hours only. The inconvenience due to the building works are already considered in the price and no further compensation will be offered.

☆☆ BEDROOMS ☆☆
This stunning Barcelona apartment features two bedrooms and a sofa bed in the living room for up to 5 guests. Both bedrooms have a high-end double bed, name brand linens, soft lighting and contemporary artwork. The apartment is a great mix of the old wooden characteristics of Barcelona combined with modern furniture and equipment. The bedrooms are warm and inviting, and a great place to relax after exploring the beautiful city.

☆☆ BATHROOMS ☆☆
This spacious unit has one full bathroom and it's far from ordinary. The beautifully tiled bathroom has all the features for ultimate refreshment and relaxation. The modern vanity sits under a wall-mounted mirror and is complete with a single sink. This bathroom is a rewarding place to get ready for a busy day or unwind from one.

☆☆ KITCHEN & LOUNGE ☆☆
While you may want to spend your time exploring Barcelona's famous eateries, sometimes there is nothing like a home-cooked meal. And this apartment features a fully furnished kitchen with everything you need to make meal preparation easy. Custom cabinets provide plenty of space to store your family's favorite groceries, and modern appliances, including a whisper-quiet dishwasher, make it easy to cook meals for your hungry crew.

Start a pot of coffee in the mornings, and eat breakfast together in the cozy breakfast nook overlooking the beautiful temple.

The lounge area sits in the center of the apartment, making it easy to move about the space. You'll find high-end couches, abstract art work, and contemporary fixtures and decor. The mostly white space accented with pops of color is the perfect spot to catch up with conversation or watch TV.

☆☆ OUTSIDE SPACE ☆☆
While there is no private patio or balcony connected to this unit, staying here allows you to step out of your front door and be immersed in the culture and beauty of Barcelona. You are just a short walk away or metro ride from patio cafes, restaurants, sidewalk boutiques, and some of Spain's most iconic and historic landmarks.

★☆ Book Today & Let Us Take Care Of You In Barcelona! ☆★

access
When you stay in this beautiful unit, you have access to everything. The unit is rented out to one family at a time, so you have ultimate privacy and space. Your host will be happy to meet you upon arrival and give you all the information you need for a comfortable and relaxing stay.

Business travelers can pop open their laptops, connect to the speedy WiFi, and keep connected with customers, clients, family, and friends back home. Families traveling with young children will have access to a baby crib, just let us know of this need beforehand so we can have it set up for you!



KEY FEATURES:
☀ 2 bedrooms; both with high end double beds and a sofa bed in the living room
☀ 1 bathroom
☀ Fully-equipped kitchen area with dining table overlooking the city
☀ Spacious and modern lounge
☀ Right in the old center
☀ Access to the Internet
☀ Modern decor and locally inspired artwork throughout

interaction with guests
We are a small team, so there will always be someone available via Airbnb chat, Whatsapp, phone or in person if needed :) We are happy to help with anything you may need during your stay.

other things to note:
It´s just important to note that the apartment is in an older building with the benefits and drawbacks of this. One drawback is that you can hear a lot of the sounds from the staircase. The apartment is also not too big, so if you are going to stay 4 people you might get on each others nerves if you are staying for a long time. For shorter stays though, it is absolutely perfect, due to its location right in the middle of it all.

This apartment is managed by Spain's Leading Serviced Apartment Brand, as awarded at the World Travel Awards 2019! We are honoured to receive this award and continue raising the standards of service in the hospitality and tourism industry. Thank you for your continued support!

By staying in this apartment, you are taking part in the WERESPECT initiative, focussed on promoting the relationship between holiday rental managers and their local communities. We ask you, as our guests, to join us in promoting sustainable tourism by being respectful of our neighbours and remaining conscious of your surroundings.

We support a local charity called Casals dels Infants, which support children from under privileged families in Barcelona and other Spanish and Moroccan cities. By booking this apartment, you are helping to contribute to this wonderful charity, and through this, better the lives of children who don't have much. If you wish to know more about Casals Dels Infants, don't hesitate to send us a message :)

Early Check in? Late check out? No problem! We can't actually let you into the apartment earlier, or let you stay longer, but we work with a great service that can take care of your suitcases for you if you arrive much before check in time, or fly out much later than check out time, so you can enjoy your day in the city without carrying them around. If you want to know more, don't hesitate to write us!

Neighbourhood
If you picked up any guidebook, the first page would talk about Barcelona´s Barrio Gotico and Las Ramblas. Most of what it would say would be very positive, and a bit of it would be negative. That kind of sums up this area.

This apartment is right in the middle of Barrio Gotico which is right in the middle of Barcelona´s Old Town which is right in the middle of Barcelona City. Therefore the area is great, you are right next to Las Ramblas, have many of the most famous sights within walking distance, a ton of restaurants, bars and cafe´s (many good, many tourist traps), etc. However, it is also an area with a lot of life both day and night, some at times interesting personal and a lot of people trying to sell you stuff because you are a tourist.

To sum up:
Great place for a short trip to Barcelona if you want to be in the middle of it all and don´t mind a crowd and a bit noise.
Not so great a place if you come with your young family and expect peace and quiet.


Getting around
The apartment is 10-15 minutes from the central square of Plaça Catalunya where most of the cities transport links pass through.

If you travel to Barcelona by plane you can use the following description coming to the apartment. The fastest way to get to the apartment is by taxi, we can help you book one if needed. You can also come with the Airport shuttle bus to Place Catalunya and after that a small walk.

equipment
Internet
refrigerator
towelsLinen
toilets
hairdryer
air conditioning
balcony
lift
microwave
parking
terrace
satTv
swimmingPool
washing machine
SPECIFICATIONS
arrival
PAYMENT AND CANCELLATION POLICY
7 days fully refundable
7 days before arrival you can cancel with full refund. Within 7 days no refund
House's rules
Here are the house rules for this apartment, based on the regulations of the buildings community guidelines.

Non-Smoking
No Parties
No Excessive Noise at Night
No non-registered visitors in the apartment
No Groups Under 35 Years of Age

Please understand that breach of these rules will lead to you having to leave the apartment immediately.

We are part of the WeRespect initiative, a Barcelona City initiative focused on making tourism and local life work side by side. We therefore hope you will respect your neighbors and the city around you.
reviews
Très contents d'avoir choisi cette solution dans le quartier gótico. Facile à trouver, bon compromis qualité prix
We had a lovely stay in the Gothic Quarter. We were greeted in person with the keys and shown around the flat which was a nice touch. Would certainly stay again!
My husband and his mom spent four nights in this apartment and very much enjoyed their stay. The communication and check-in was nice and easy. And the host always was available ik case of needs and questions. The apartment had everything the two needed. They were very happy about the central location, but it was still quiet. We can recommend this apartment and the hosts and would go back there any time. Thank you!
muy buena ubicacion, poco luminoso, muy bien equipado
Great stay - flat made it due to location.
Location is great to explore Barcelona, it looks just like the pictures. It is very narrow, kitchen has everything you need for a basic meal. Building is quiet. Hard for taxi's to find if you are not familiar with Barcelona and the way the streets work - pack light you may need to walk a couple blocks to get there and then 2 flights of narrow stairs to get up to the apartment. Bed in master is very uncomfortable, needs to be replaced. Overall the stay is good, great location, communication is pretty good, and fits needs if you want to eat in some days. Internet was pretty good.
A perfect location and clean, cool apartment which had strong aircon - a must have :)
Gemütliche, saubere kleine Wohnung. Die Lage hat uns sehr gut gefallen, zentraler wohl kaum möglich. Ich würde dieses Appartment wieder buchen.
Lage Top, Sauberkeit top. Kommunikation top.
Add dates to see availability