Thank you for contacting us!&nbsp
You will receive a response shortly.
Make a booking
Book
Phone
en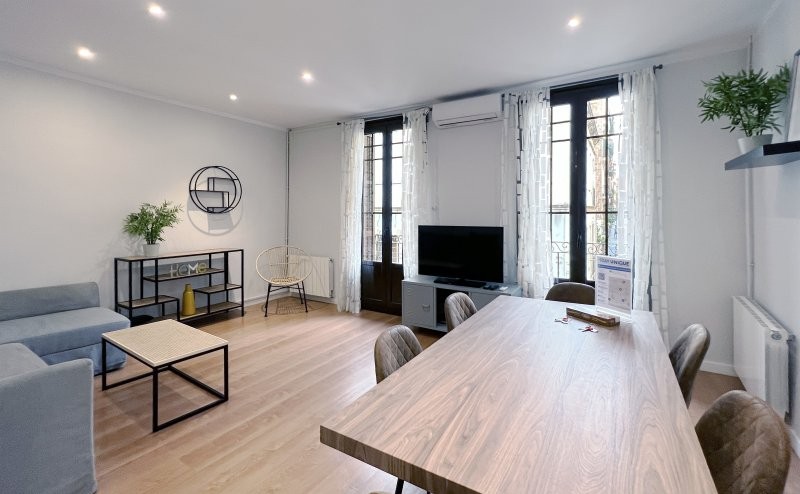 Image gallery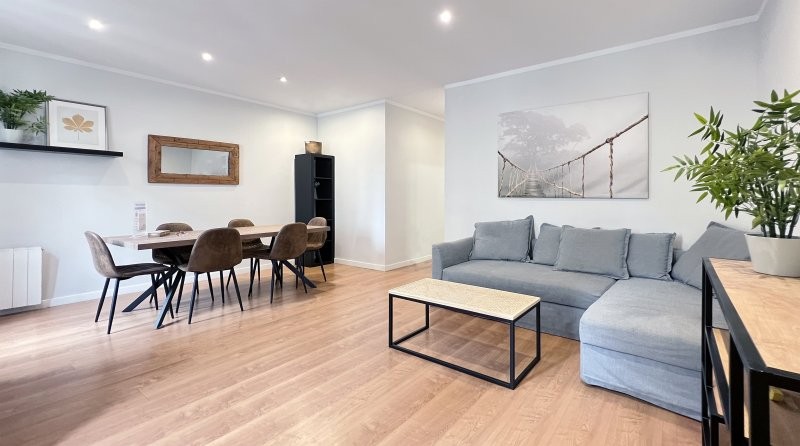 Image gallery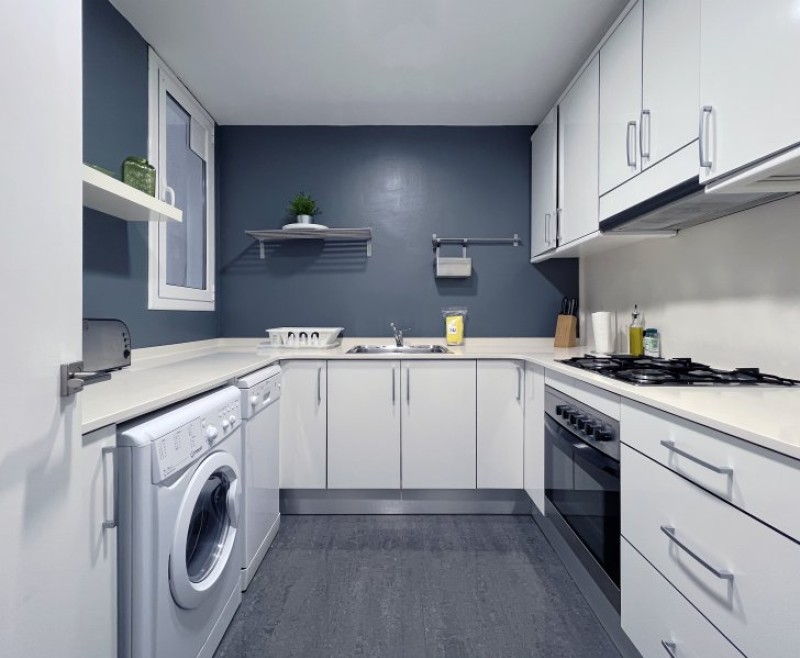 Image gallery
Image gallery
Image gallery
Image gallery
Image gallery
Image gallery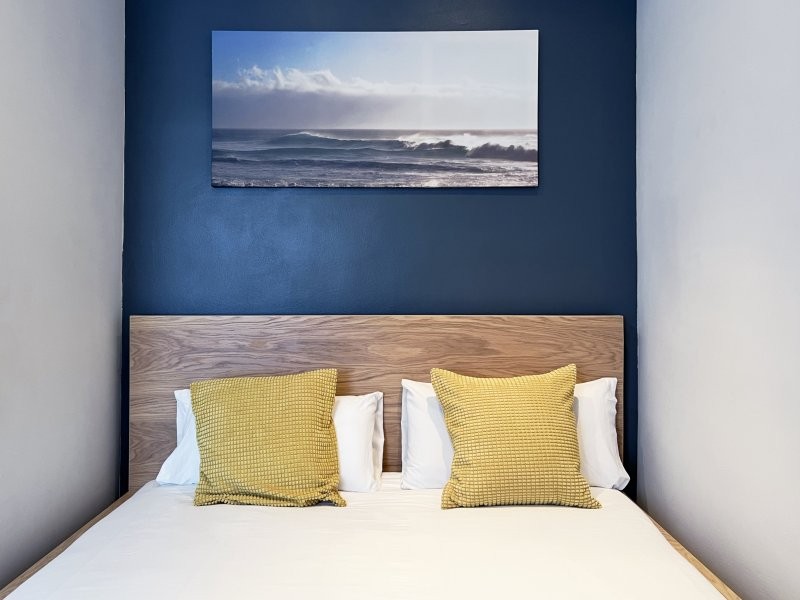 Image gallery
Image gallery
Image gallery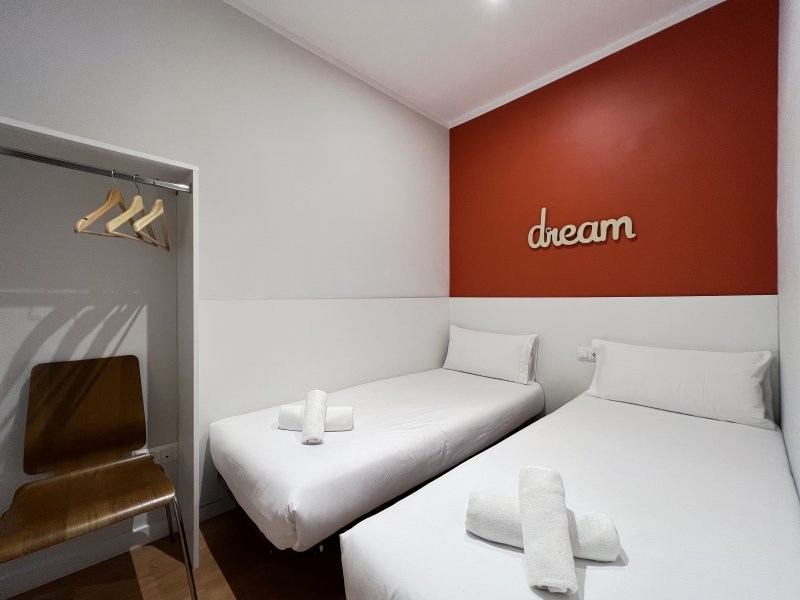 Image gallery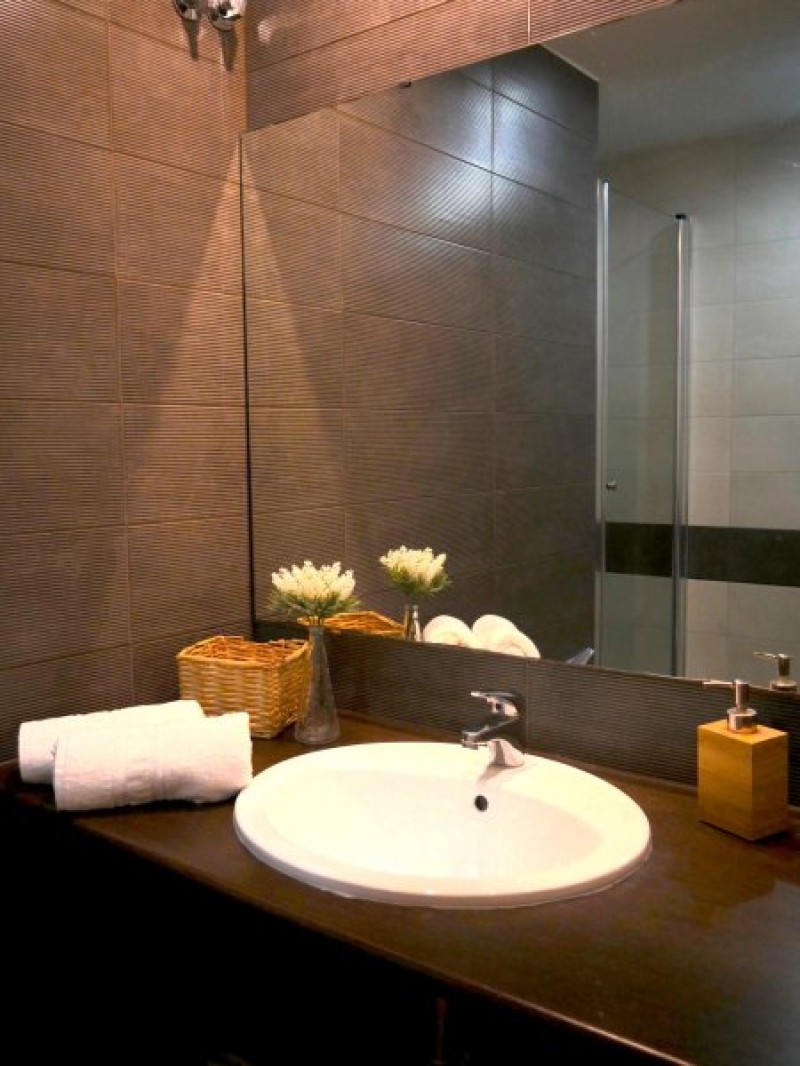 Image gallery
Image gallery
Image gallery
Barcelona
Bright family apartment with balcony
ADVANTAGES OF BOOKING WITH US
Disponibilidad 24 horas
7 días a la semana
Mejor precio
online garantizado

License number:
HUTB-000592
Description
This large and spacious apartment located right in the heart of the bustling Gracia neighbourhood is perfect for families. Fully equipped with three bedrooms, a sofa bed and a balcony to enjoy the sun of Barcelona. Access to public transport is only a few minutes' walk away and it is very easy to get to restaurants, cultural hotspots.

Experience Barcelona With Us & Learn More Below!

13 Min Metro to La Sagrada Familia
9 Min Metro to Plaça Catalunya
☆Elevator
☆Family apartment

This large and spacious apartment located right in the heart of the bustling Gracia neighbourhood is perfect for families. Fully equipped with three bedrooms, a sofa bed and a balcony to enjoy the sun of Barcelona. Access to public transport is only a few minutes' walk away and it is very easy to get to restaurants, cultural hotspots.

Experience Barcelona With Us & Learn More Below!

The space:

Here Are A Few Kind Words From Our Past Guests:

''Amazing apartment, very good location close to netro, great neighborhood. the apt itself was with everything we needed, just buy the products and you can cook everything. Very recommended!''- Saar

''Great hospitality with detailed attention. Central location. Close to metro station. Very clean and as listed. Overall great stay!''- Claudette

☆☆ BEDROOMS ☆☆
This stunning Barcelona apartment features three bedrooms and a sofa bed in the living room for up to 6 to 8 guests. One bedroom have a double bed and the two other has two simple beds. Every bedroom has name brand linens, soft lighting and nice decoration. The windows are really big and provide you with an enormous amount of light to start your day off right. The bedrooms are warm and inviting, and a great place to relax after exploring the beautiful city.

☆☆ BATHROOMS ☆☆
This spacious unit has two full bathrooms and they are far from ordinary. These modern bathrooms have all the features for ultimate refreshment and relaxation. Each one has a nice vanity sits under a wall-mounted mirror which is complete with a single sink. These bathrooms are a rewarding place to get ready for a busy day or unwind from one.

☆☆ KITCHEN & LOUNGE ☆☆
While you may want to spend your time exploring Barcelona's famous eateries, sometimes there is nothing like a home-cooked meal. And this apartment features a fully furnished kitchen with everything you need to make meal preparation easy. Custom cabinets provide plenty of space to store your family's favorite groceries, and modern appliances, including a dishwasher, make it easy to cook meals for your hungry crew.

Start a pot of coffee in the mornings, and eat breakfast together in the cozy breakfast.

The lounge area sits in the center of the apartment, making it easy to move about the space. You'll find high-end couches, abstract art work, and contemporary fixtures and decor. The mostly white space accented with pops of color is the perfect spot to catch up with conversation or watch TV.

☆☆ OUTSIDE SPACE ☆☆
There is a private balcony connected to this unit to enjoy the sunset while drinking a glass of wine. You are just a short walk away or metro ride from patio cafes, restaurants, sidewalk boutiques, and some of Spain's most iconic and historic landmarks.

★☆ Book Today & Let Us Take Care Of You In Barcelona! ☆★

Guest access:
When you stay in this beautiful luxury unit, you have access to everything. The unit is rented out to one family at a time, so you have ultimate privacy and space. Your host will be happy to meet you upon arrival and give you all the information you need for a comfortable and relaxing stay.

Business travelers can pop open their laptops, connect to the speedy WiFi, and keep connected with customers, clients, family, and friends back home. Families traveling with young children will have access to a baby crib, just let us know of this need beforehand so we can have it set up for you!

KEY FEATURES:
☀ 3 large bedrooms
☀ 2 bathroom
☀ Fully-equipped kitchen area with dining table overlooking the city
☀ Spacious and modern lounge
☀ Balcony
☀ Access to the Internet

The neighborhood:
Gracia is a very quiet neighborhood, mainly because most of it is pedestrian only, giving it a very nice and quiet feel.

Gracia is very safe, especially from pickpockets, compared to the more tourist and crowded areas of Barcelona.

Gracia is still centrally located, meaning that Sagrada Familia, Passeig de Gracia, Hospital Sant Pau, Casa Milá, Casa Battló and even the old town and Las Ramblas is eay to reach.

Gracia is very local. It is not filled with tourists, souvenir shops and overpriced, under delivering restaurants. Quite opposite, the majority of people living here are local, giving it a very authentic feel and experience (and food prices and quality!).

Gracia is walkable. Most of Gracia is pedestrianised and centered around cute small squares. That, together with this apartments very centric location in Gracia means you don´t need anything other than your feet to fully enjoy all Gracia has to offer.

Gracia is creative. Gracia is full of small art galleries and handicraft shops. That, coupled with a very sustainability focused mindset means you can find boutique´s that sell everything from bags made of old car tires to sculptures made of old drinks cans.

Gracia guarantees you will go home with a happy belly. Gracia is famous for it´s huge and varied assortment of restaurants and eateries. Here you can find everything from Asian to African to Latin American to all sorts of fusions. And of course plenty of tapas and local Spanish and Catalan offerings.

Gracia has a great shopping opportunities. Gracia is full of small shops of all kinds, and the big famous shopping street of Passeig de Gracia also runs just at the edge of Gracia.

Getting around:
All of Barcelona is generally really well connected as there are busses, 9 metro lines, trams and taxies. Most can also easily be reached on foot. We are also seeing more and more bicycle and scooter sharing services pop up! Ask us if you want more information on any of these :)

CEE: Yes / Consumo Energía: F / Emisiones: F
equipment
Internet
refrigerator
towelsLinen
toilets
hairdryer
air conditioning
balcony
lift
microwave
parking
terrace
satTv
swimmingPool
washing machine
SPECIFICATIONS
arrival
PAYMENT AND CANCELLATION POLICY
7 days fully refundable
7 days before arrival you can cancel with full refund. Within 7 days no refund
House's rules
DO NOT BOOK BEFORE READING THESE RULES.

No Smoking: Please notice that this is a strictly non-smoking apartment.
The apartment is fitted with smoke detectors.

No Parties: Strictly no parties are allowed in this apartment as the apartment is located in a residential building. If you are coming to party, please book somewhere else.

No noise at night: No excessive noise is allowed after 21/9PM as the apartment is located in a residential building.

The apartment has a NoiseAlarm installed: This device only measures the volume level of noise and sends an alert when exceeding the maximum limit set. By NoiseAlarm only measuring the sound pressure, it does not record any audio, video nor conversations, and offers a 100% of privacy to the guests.

This system collaborates to make tourism more sustainable, for more information visit www.roomonitor.com If you do not adhere to these rules, we reserve the right to ask you to leave immediately, as our relationship with our neighbors is of the utmost importance to us.

If a guest loses a set of keys during their stay, an 80€ fee will apply.

Please keep in mind that if you book last minute (less than 24 hours before your arrival), the official check-in time will be subject to our availability and will be after 4:00 PM.

City Tax: We have to charge you the Barcelona City Tax of 4.40€ per guest above 17 years of age per night, upon arrival to the apartment. To understand the calculations, 3 people staying for 3 nights is 39.60€ (4.40 x 3 X 3 = 39.60).

Passport information: It is required by law to register all people staying in any tourist accommodation by their full name, birth date, and passport number. We will therefore request you to provide us with this information before your arrival.

Send this sentence and the ages of your group with your first message: "Roses are red, violets are blue, I have read the house rules as I was supposed to"
reviews
Appartamento ubicato in un quartiere meraviglioso e funzionale in ogni suo aspetto!
We experienced a very clean and practical apartment with everything we needed for our stay. The apartment is located in a really fantastic neighbourhood with picturesque narrow streets and variety of cafes, restaurants, and shops.
Location is nice and quiet, easy access, few meteres away you have a bakery and small grocery shop. Apartment is equiped with all you need. We had some questions for host and they replied quickly and answered to everything we asked. Everything was really 5+ star and we totally enjoyed our holidays.
During our one week stay in Barcelona it was very convenient to be close to all kind of stores, restaurants, and locations we needed to visit. The bedrooms are perfectly located away from the street noise, and the beds are very comfortable. A well equipped kitchen also allowed us to prepare some of our meals. Communication with the host was very efficient, and any repairs that were required were quickly resolved.
Agréable séjour, appartement très bien situé
Wir haben mit meiner Familie zwei Tage dort übernachtet. Positives: Die Lage ist gut. Man kann in 30 Minuten alle Sehenswürdigkeiten zu Fuß erreichen oder man entscheidet sich für die S-Bahn, welche in 5 min zu Fuß zu erreichen ist. Auch in unmittelbare Nähe gibt es Möglichkeiten für den täglichen Gebrauch etwas einzukaufen. Manche Möbelstücke sind etwas heruntergekommen. Auch das Sofa ist nicht mehr ganz sauber. Jedoch war die Unterkunft alles in einem ganz okay. Preis Leistung ist hier definitiv gegeben.
Good value for money.. It's looks like the photos.
Me gustó mucho la estancia en el apartamento! Fue muy fácil y no hubo problemas graves.
Amazing location! Unfortunately the lock was malfunctioning when we arrived, but the host was quick to respond and come help us out.
Great stay and good location.
Lage der Wohnung ist sehr gut. Wir waren 6 Erwachsene und haben uns dort sehr wohl gefühlt. Haben fast alles zu Fuß erkundet ( Taxi auch sehr günstig) . Viele Lebensmittelgeschäfte, Bäcker und andere Läden direkt neben der Wohnung. Wir hatten eine tolle Zeit in Barcelona
Great location and clean three bedrooms apartment. Cross street is a bakery store for getting the breakfast within 1-2 minutes. Nearby has lots of restaurants and grocery stores. Easy to call taxi to airport on intersection street . Great communication with U-Nique property manager people. We will definitely stay there again for our next visit!
Excellent location, very clean and safe staying.
We had a great stay. Appartement is really big enough for 6 people. Only one bed room without windows. The location is great! A lot of bars and restaurants around!
We had a great stay. The location of the apartment was perfect and communication was very smooth and rapid
This was a perfect neighborhood. The apartment is clean, bright and has lots of space. We had everything we needed. We would definitely book here again.
Não a melhor lugar em Barcelona, por conta do local que estávamos hospedados conseguimos fazer Barcelona inteira em 2 dias.
Appartement idéalement placé dans le quartier de Gracia. Manque peut-être une climatisation dans la petite chambre, mais n'a pas entravé notre séjour. Équipe très réactive en cas de question. Si nous revenons à Barcelone nous utiliserons sûrement à nouveau Stay U-Nique pour notre location .
Nice and spacious apartment in a great location! Everything was clean and the host was quick to deal with any problems we have during our stay.
This apt is right around the corner from Plaça de la Vila de Gràcia and Plaça del Sol de Gràcia. So there are lots of great cafes, bars, and restaurants in a short walking distance. We were able to sleep six people comfortably (this involved two people sharing a queen-sized bed, and the other four people had a twin bed to themselves). The living area was a space to spread out too.
Pobyt ogolnie oceniamy bardzo dobrze, ale bylo kilka kwestii, ktore wplynely na obniżenie poziomu naszej satysfakcji. Po pierwsze, mozliwosc korzystania z mieszkania 2 godziny pozniej niz sie umawialismy, gdyz mieszkanie bylo w trakcie sprzatania, gdy zaczynal się check-in (dostalismy w ramach rekompensaty late check-out, ale to byl dla nas bardzo dlugi dzien, gdyz mielismy lot o 5 rano i podrozowalismy z malym dzieckiem i osoba starsza, wiec bylo to dla nas duze utrudnienie). Po drugie, problemy z klimatyzacja. Tutaj tez byla szybka reakcja po stronie gospodarza, bo wyslal kogos do naprawy. Niestety bez pelnego sukcesu. Po trzecie, na zdjeciach nie bylo widoczne, ze jedna z sypialni nie ma okna na zewnatrz. Po czwarte, fatalny materac w lozeczku dzieciecym. Kolejny punkt to nie dzialajaca mikrofalowka. Lokalizacyjnie apartament byl swietny, dokladnie tak jak w opisie. W wiele najciekawszych punktow Barcelony mozna bylo dojsc na piechotę. W poblizu duzo sklepow spozywczych i piekarni. Przestrzen w salonie dobrze dopasowana do wspolnego wypoczynku
Excelente apartamento e a localização é perfeita. Muito bom mesmo.
Die Lage der Wohnung ist ist recht gut, wenn man nicht direkt im Zentrum wohnen möchte. Metro und Busstation befinden sich einige Gehminuten von der Wohnung. In unmittelbarer Nachbarschaft gibt es eine Bäckerei, einen kleinen Supermarkt, einen Metzger und einen Obst- und Gemüseladen. Allerdings waren wir etwas überrascht, wie klein das dritte Zimmer "dream" ist. Es gibt kaum Stauraum und zwischen den Betten gibt es nur ganz wenig Platz. Das Zimmer hat auch kein richtiges Fester und liegt direkt beim Treppenhaus, somit ist es nicht sehr ruhig. Die anderen beiden Zimmer sind ruhig und liegen zum Innenhof, allerdings tropft bei Regen das Wasser auf ein Blech, welches über dem Fenster befestigt ist, was sehr unangenehm ist.
Adresse à retenir, appartement conforme à l'annonce proche de différents monuments. Hôtes accueillant et réactif à nos attentes.
every thing was good, thank you
El piso está genial ubicado y muy limpio! Repetiremos sin duda
Appartement spacieux et bien équipé. La cuisine a tout ce qu'il faut pour faire des repas et manger sur place. Un ascenseur mène à l'étage. De nombreux magasins d'alimentation sont à proximité immédiate. Le contact avec Stay U-Nique est parfaitement adapté et agréable.
Muy buena experiencia. Estupenda localización, y apartamento muy cómodo.
Spacious, well-located basic apartment with everything you need and in walking distance of everything else!
Add dates to see availability